The Murdered City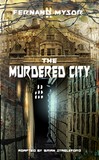 THE MURDERED CITY
by Fernand Mysor
adapted by Brian Stableford
cover by Phil Cohen
Blasius has suffered much from life as a youth. An unknown and mocked scholar, he devotes himself to mysterious researches on the transmutation of metals and manages to create a philosopher stone which transforms everything it touches into gold. This diabolical man acquires an island, gathers other unfortunate people, builds a city and reigns over it...


Contents:
La Ville Assassinée (1925)
Introduction and Notes by Brian Stableford.