New Releases: May 2022
Captain Ukraine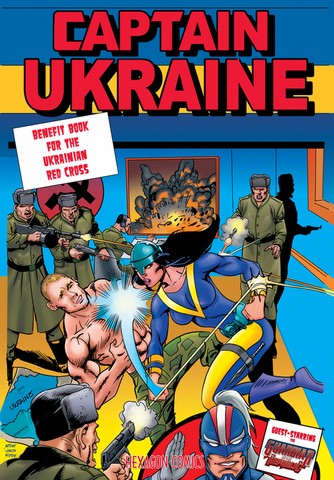 BENEFIT BOOK FOR THE UKRAINIAN RED CROSS

Story by J.-M. Lofficier - art & cover by Constanzo - art by Vincenzo Chiomenti - 56 p. b&w - US9.95.

This special issue introduces a character who is both new and yet has been part of the Hexagon Universe since 1963: Captain Ukraine! Nadiya Karine, the modern-day version of this hero, introduced alongside the French Guardian of the Republic in her very first appearance here (in a story by J.-M. Lofficier & Constanzo), is none other than the descendant of Ivan Karine, a Ukrainian Captain from the 17th century, created by Vincenzo Chiomenti, whose exploits were first published in 1963. The Karine family belongs to the Zaporozhian Cossacks, who were the progenitors of the Ukrainian nation. The first story of this classic series is reprinted here, along with a foreword providing details on this historical, yet still topical, character.

This issue features the Captain Ukraines of the 17th, 19th, 20th and 21st centuries, united in a common effort to defeat injustice and tyranny. During these tragic hours, Hexagon Comics stands with Ukraine, uniting past and present by releasing this very special issue, the profits of which will be donated to the Ukrainian Red Cross.


French Tales of Cataclysms
stories by Georges Bethuys, Raoul Bigot, Camille Debans, Henri Falk, Alfred Franklin, Louis Gallet, Maurice Leblanc, Eugène Mouton, René Pujol, J.-H. Rosny Aîné, Colonel Royet and Pierre Véron; translated by Brian Stableford (with the exception of The Tremendous Event); edited by J.-M. & Randy Lofficier; cover by Mike Hoffman. 420 pages. US$29.95.

The term "cataclysm" is defined as a large-scale, violent event in the natural world, or a sudden and equally violent political or social upheaval. Such concepts run throughout the history of the French roman scientifique—a genre that some might call proto-sf—from the 18th century to today. In this thematic collection we have gathered ten remarkable short stories by J.-H. Rosny Aîné, Camille Debans, René Pujol, Pierre Véron, Alfred Franklin, etc., published between 1802 and 1928, plus two full-length novel by Maurice Leblanc—the father of Arsène Lupin—and Colonel Royet, published respectively in 1920 and 1928.


Strangers Origins: Jaleb the telepath
Stories by Claude J. Legrand; art by Annibale Casabianca; cover by Chris Malgrain.. 128 p. b&w - US$12.95.
Jaleb is accidentally left behind on Earth as a baby by a team of explorers from a Galactic Federation of telepaths. He is found and raised by a couple of Oregon farmers. As an adult, he uses his inherited telepathic powers for good as a private detective, but a chance encounter with a Federation Observer leads him to discover his true origins.. The first three episodes of this ground-breaking series by Legrand and artist Annibale Casabianca are collected here for the first time in English as part of a set devoted to the origins of the heroes who are later gathered together in Strangers.
New Year Promotion

40% OFF IF YOU BUY FIVE BOOKS OR MORE -- ANY BOOKS! (EXCEPT EBOOKS OR ARTBOOKS). USPS FREIGHT FREE (but no guarantees). UPS FREIGHT $10. E-mail me the title(s) and I'll send you a paypal invoice, or order as usual from our site, and I will refund you the excess money.
New e-books
(January 2022)
Available in
EPUB
or
PDF
formats. Please specify which when ordering.