If Your Possum Go Daylight...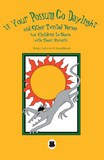 IF YOUR POSSUM GO DAYLIGHT
And Other Twisted Verses For Children To Share With Their Parents
by Randy Lofficier
illustrated by Raven OKeefe

IF YOUR POSSUM GO DAYLIGHT attempts to blend whimsical illustrations and inappropriate verse into a whole that is greater than each of its parts.

Raven OKeefe and Randy Lofficier have been sisters-in-spirit for over 10 years, often inspiring each other with wild ideas and flights of fantasy. This collaboration came together after an offhand remark in an email sparked their warped imaginations

US$ 12.95 /GBP 9.99
5.5x8.5 tpb, 60 pages
ISBN-10: 1-934543-78-0
ISBN-13: 978-1-934543-78-8

If you possum go daylight
What do it mean?
Do it mean you possum's
A Killing machine?

If he nibbles you fingers
And crunches you toes
Does it mean he coming
After you nose?

There's a pink Unicorn in my garden
Why she's there, I haven't a clue.
To be honest, and begging your pardon,
Better there than caged in a zoo.
The Leopard prowls the jungle

Through the darkness he does slink,
But at dawn he takes his spots off
And he catches forty winks!