Arsene Lupin vs Sherlock Holmes: The Blonde Phantom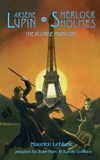 NOTE: YOU ARE PURCHASING AN E-BOOK, NOT A PAPER BOOK. WHEN ORDERING, PLEASE SPECIFY IN THE COMMENTS IF YOU PREFER A PDF OR AN EPUB FILE. THE FILE WILL BE E-MAILED TO YOU AS SOON AS PAYMENT IS RECEIVED.


ARSENE LUPIN vs. SHERLOCK HOLMES: THE BLONDE PHANTOM
by Maurice Leblanc
adapted by J-M. & R. Lofficier
cover by Arnaud Demaegd

"We may talk, shake hands, nod to each other, but the fence remains. You will always be Sherlock Holmes, the Detective, and I, Arsène Lupin, the Gentleman Burglar."

This famous 1907 Holmesian pastiche (comprised of two novellas) has been retranslated for the first time and includes two all-new stories.

Maurice Leblanc's classic 1906 thriller pits France's notorious Gentleman Burglar against England's Great Detective in a deadly duel over the legendary BLUE DIAMOND, stolen by Lupin with the help of the mysterious "Blonde Phantom" and which Holmes has sworn to recover at all costs.

Contents:
- The Blonde Phantom by Maurice Leblanc
- Arsène Lupin Arrives Too Late by J.-M. & R. Lofficier
- The Jewish Lamp by Maurice Leblanc
- The Unkindest Cut by J.-M. & R. Lofficier
- Lupin-Holmes Chronology by J.-M. & R. Lofficier
Read the reviews...

FIVE STARS ON AMAZON
"if you appreciate crossovers, you can't go wrong with this volume..."

Arsène Lupin vs Sherlock Holmes: The Blonde Phantom by Maurice Leblanc, adapted into English by Jean-Marc & Randy Lofficier completes the account begun in Arsène Lupin vs Sherlock Holmes: The Hollow Needle. Here we have the two novellas, 'The Blonde Phantom' and 'The Jewish Lamp' (originally published together in English as The Arrest of Arsène Lupin,The Blonde Lady or The Fair-haired Lady, depending on the publisher) along with two short stories by the translators, which neatly fill gaps in the saga. The Lupin-Holmes tales appeal to me for several reasons. The protagonists are remarkably evenly matched; unlike Chief Inspector Ganimard, Holmes really gives Lupin a run for his money, though of course Lupin comes out on top. The narrator (named as Leblanc himself) admires the detective but is firmly on the burglar's side, and the portrayal of Holmes and Watson is refreshingly different from that given in the Canon, as Anthony Boucher pointed out long ago. Moreover, the plotting is ingenious, and there's that touch of the outrageous that British writers didn't seem to master fully until the television age (when it flowered gorgeously in The Avengers). There's nothing actually impossible in the exploits of Arsène Lupin, but there's a great deal that's improbable, and the better for it. Maurice Leblanc was not allowed to use the name of Sherlock Holmes in the original publications; he resorted to Herlock Sholmès, which a British publisher cleverly transformed into Holmlock Shears. But how nice to encounter Holmes under his real name in this extraordinary continuing duel.
The District Messenger