Discovery of the Austral Continent by a Flying Man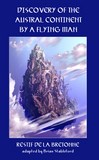 NOTE: YOU ARE PURCHASING AN E-BOOK, NOT A PAPER BOOK. WHEN ORDERING, PLEASE SPECIFY IN THE COMMENTS IF YOU PREFER A PDF OR AN EPUB FILE. THE FILE WILL BE E-MAILED TO YOU AS SOON AS PAYMENT IS RECEIVED.


DISCOVERY OF THE AUSTRAL CONTINENT BY A FLYING MAN
by Restif de la Bretonne
adapted by Brian Stableford
cover by Stephan Martiniere

Contents:
La Découverte Australe par un Homme Volant ou Le Dédale Français (1781)
Introduction, Afterword and Notes by Brian Stableford.

Nicolas-Edmé Restif de la Bretonne (1734-1806) produced over 180 books, totaling some 57,000 pages, many of them printed by his own hand, on almost every conceivable subject. Praised in Germany, he was mostly forgotten in France until being rediscovered by the Surrealists in the early 20th century. Two of his most important seminal works are being presented here for the first time in English in a four-volume edition.

In The Discovery of the Austral Continent by a Flying Man (1781), Victorin devises a set of artificial wings to abduct his beloved Christine, before setting her up on top of a mountain as queen of her own utopia. Then he relocates to the southern ocean where he visits islands inhabited by giants and other variant human species, including beast-men combining the features of humans and animals. His voyage ends in the great City of Sirap, another utopia located in Megapatagonia.

The Discovery of the Austral Continent is unique, not only within Restif's oeuvre, but within the context of French imaginative fiction. By virtue of the deft combination of its technological element with the theoretical element, it is undoubtedly the most significant work of science-based speculative fiction produced before the French Revolution.