Madame Atomos 1.1: The Sinister Madame Atomos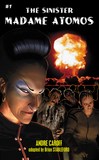 NOTE: YOU ARE PURCHASING AN E-BOOK, NOT A PAPER BOOK. WHEN ORDERING, PLEASE SPECIFY IN THE COMMENTS IF YOU PREFER A PDF OR AN EPUB FILE. THE FILE WILL BE E-MAILED TO YOU AS SOON AS PAYMENT IS RECEIVED.


THE SINISTER MADAME ATOMOS
by André Caroff
adapted by Brian Stableford
cover by Jean-Michel Ponzio

"You are a murderer, Mr. Maxwell! The United States is inhabited by a population of murderers! Your country is a realm of corruption, gangsterism, vice, racism and crime! Your women do the housework for you and get drunk in bars! You kill men like Lincoln and Kennedy, when no foreigner would have touched a hair on their heads! Mr. Maxwell, you will die slowly, and you will be able to watch yourself die! Your muscles are already dead. Soon, your nerves will be; then your blood will coagulate in your veins. Your heart will cease to beat, but for a few seconds, your brain will continue to function. Those few seconds will be horrible, Mr. Maxwell-horrible! And I hope you enjoy them! Compliments of Madame Atomos, Mr. Maxwell!"


Contents:
- Introduction by J.-M. Lofficier
- The Sinister Mme Atomos [La Sinistre Mme Atomos] (1964)


The deadly Madame Atomos is a brilliant but twisted Japanese scientist who is out to avenge herself against the United States for the bombings of Hiroshima and Nagasaki, where she lost her family. Opposing her are Smith Beffort of the FBI, Dr. Alan Soblen, and Yosho Akamatsu of the Japanese Secret Police.

This classic French sci-fi thriller series from the 1960s is presented here in English for the first time in a ten-volume omnibus edition.

In the first novel collected here, Madame Atomos unleashes radioactive zombies in New York.