Martyrs of Science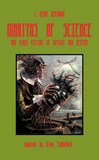 NOTE: YOU ARE PURCHASING AN E-BOOK, NOT A PAPER BOOK. WHEN ORDERING, PLEASE SPECIFY IN THE COMMENTS IF YOU PREFER A PDF OR AN EPUB FILE. THE FILE WILL BE E-MAILED TO YOU AS SOON AS PAYMENT IS RECEIVED.


MARTYRS OF SCIENCE and Other Victims of Devilry & Destiny
by S. Henry Berthoud
adapted by Brian Stableford
cover by Mariousz Gandzel

"You see, my second sun already appears to you to be more than a hollow dream! But this is only a rough and imperfect work. The light does not reproduce itself; the gases are exhausted; the refractory body loses its properties. It requires a man versed in science to watch over the apparatus incessantly, to prevent an explosion. But I shall create a sun that will be, in approximate proportion, as bright and as durable as God's sun!"


S. Henry Berthoud (1804-1891) was a writer of considerable ability, remembered today mostly for his often reprinted collections of folkloric legends from Northern France. Yet, he was a writer who came close to inventing science fiction as early as the 1840s.

This unique collection assembled, translated and introduced by Brian Stableford, gathers 32 of Berthoud's best works, displaying his often pioneering surges of imagination. It includes samples of his remarkable supernatural stories, his eccentric scientific fantasies, featuring real or imaginary scientists, his ground-breaking visions of the prehistoric past of Paris, and his futuristic novella about the Year 2865.

"Berthoud's work would have been just as difficult for contemporary readers to assess as for modern ones, but its esotericism should not be allowed to detract from his achievement, which is as remarkable for its fervor as for its uniqueness." Brian Stableford.

Contents:
Misanthropic Tales
Prestige
The Painter Ghigi
The Day After the Wedding
Theriaki
Nocturnal Terror
Alice
Folklore and Fakelore
The Devil's Chess Game
The Mouth of Hell
The Devil's Sonata
The Sabbat Bow
The Antique Ring
The Lady of the Cold Kisses
The Barn in Montecouvez
The Wedding at Cavron-Sain-Martin
The Sire with the Broken Armor
The Farmer's Supper
Saint Mathias the Hermit
Martyrs of Science
A Voyage in the Heavens
The Master of the Weather
The Madman
The Cauldron of Bicêtre
The Second Sun
Scientific Fantasies
The Star-Eaters
Luminous Flowers
Which Should Not be Read by People Afraid of Nightmares
The Story of a Tree in the Champs-Élysées
The Diabolical Coal-Merchant
A Haunted Room
A Scientist's Cruelties
Stories for Children
Heidenloch Castle
The First Inhabitants of Paris
The Year 2865
Introduction and Notes by Brian Stableford.