Pan's Flute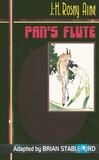 NOTE: YOU ARE PURCHASING AN E-BOOK, NOT A PAPER BOOK. WHEN ORDERING, PLEASE SPECIFY IN THE COMMENTS IF YOU PREFER A PDF OR AN EPUB FILE. THE FILE WILL BE E-MAILED TO YOU AS SOON AS PAYMENT IS RECEIVED.


PAN'S FLUTE
by J.-H. Rosny Aîné
adapted by Brian Stableford
cover by Mike Hoffman (design by vincent Laik)


"You are the most beautiful of all women, Mistress. From the Red Gulf to Syria, no daughter of men is comparable to you."


Pan's Flute (1897), Etruscan Amour (1898) and Setne's Women (1903) are three bold and lurid mythological fantasies dealing with erotic obsessions and ancient civilizations.

J-H. Rosny Aîné is the second most important figure in modern French science fiction after Jules Verne. Rosny, who was a member of the distinguished Goncourt literary academy, was also the first writer to straddle the line between mainstream literature and science fiction. Until now, Rosny has best been known to the English-speaking public for his prehistoric thriller, Quest for Fire.

Pan's Flute is the eighth volume in a set published by Black Coat Press devoted to presenting the classic works of this giant of French science fiction.


Contents:
La Flûte de Pan [Pan's Flute] (Borel, 1897)
Amour Étrusque [Etruscan Amour] (Borel, 1898)
Les Femmes de Setnê [Setne's Women] (Ollendorff, 1903)
Introduction and Notes by Brian Stableford.