Revenants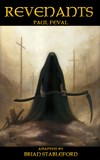 NOTE: YOU ARE PURCHASING AN E-BOOK, NOT A PAPER BOOK. WHEN ORDERING, PLEASE SPECIFY IN THE COMMENTS IF YOU PREFER A PDF OR AN EPUB FILE. THE FILE WILL BE E-MAILED TO YOU AS SOON AS PAYMENT IS RECEIVED.


REVENANTS
by Paul Féval
adapted by Brian Stableford
cover by Arnbaud Demaegd

"When the damned calls out to the avenger;
When the Stone missing from the Tomb of Tanneguy is found again,
Treguern, three times dead, will be resurrected."
The Prophecy of Treguern.

1800. On the windswept moors of Brittany, renegade priest Gabriel Le Brec and Count Filhol de Treguern embark on a scheme to defraud an insurance company by faking the death of the latter. This sets in motion a danse macabre of murders, betrayals, people who change their names, lost birth certificates, false testimonies, an Ann Radcliffe romance, a Miltonian struggle between Good and Evil and an impossible phantasmagoria of living men who pretend to be dead and dead men who return to claim vengeance.

"The whole plot is a duel between two insanely obsessive sorcerers, Commander Malo Treguern and Dowager Françoise Le Brec. Were it not for Féval's repeated assurances that Malo has Destiny and God on his side, while the Dowager is the Devil's pawn, the reader would surely be at a loss to know which of the two to support." Brian Stableford.

READ THE REVIEW ON TALIESIN

Contents:
Les Revenants (1852) by Paul Féval; Introduction, Afterword and Notes by Brian Stableford.