The Dominion of the World 2: The Transatlantic Threat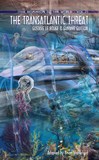 NOTE: YOU ARE PURCHASING AN E-BOOK, NOT A PAPER BOOK. WHEN ORDERING, PLEASE SPECIFY IN THE COMMENTS IF YOU PREFER A PDF OR AN EPUB FILE. THE FILE WILL BE E-MAILED TO YOU AS SOON AS PAYMENT IS RECEIVED.


THE DOMINION OF THE WORLD 2: THE TRANSATLANTIC THREAT
by Gustave Le Rouge & Gustave Guitton
adapted by Brian Stableford
cover by Gilles Francescano
The Dominion of the World (1900) represents a transition from classic Vernian anticipation to the pulp serials of the 1920s and 1930s. It is also the only science fiction work that sought to dramatize the "Transatlantic Peril", positing a fundamental difference of culture and attitude between the United States and Europe. Despite some of its outlandishness, hindsight has lent the world imagined by Gustave Guitton and Gustave Le Rouge (The Vampires of Mars) a certain prophetic quality.
VOL. 2. THE TRANSATLANTIC THREAT
Black, sinister and impassive, the iron men surged forth in a flood of light. Their battalion was bristling with bayonets. Armored in steel, braced on their rigid legs, their torsos bulging, one might have taken them for Medieval knights resuscitated and ready to advance. Helmets took the place of the metal phantoms' heads.


In the second volume of the series, as France seemed headed for war with England over colonial disputes in Africa, the secret cabal of American billionaires, led by William Boltyn, schemes to stop French scientist Arsène Golbert from completing his plans for a subatlantic railway. Meanwhile, in his secret citadel of science hidden in the Rocky Mountains, mad engineer Hattison has created an invincible army of "iron men", robots that will ensure the billionaires' victory...

Contents: À Coups de Milliards [Throwing Billions Around] (1899)
Introduction and notes by Brian Stableford