The Empire of the Necromancers 3: Frankenstein in London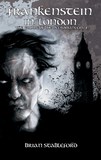 NOTE: YOU ARE PURCHASING AN E-BOOK, NOT A PAPER BOOK. WHEN ORDERING, PLEASE SPECIFY IN THE COMMENTS IF YOU PREFER A PDF OR AN EPUB FILE. THE FILE WILL BE E-MAILED TO YOU AS SOON AS PAYMENT IS RECEIVED.


FRANKENSTEIN IN LONDON (The Empire of the Necromancers 3)
by Brian Stableford

cover by Daniele Serra

"To the Necromancers of London!" the vampire Szandor declared. "Long may they thrive!" "To the Future!" added the Grey Man who had once been Victor Frankenstein. "Long may it last!" Feeling compelled to complete the ritual, Gregory Temple only hesitated a moment before saying: "To Life! Long may it retain the empery of the flesh!"


1823. Thanks to the technique discovered by Victor Frankenstein, it is now possible to resurrect the dead. Many competing factions plan to use such technology to reshape the world. Scotland Yard Superintendent Gregory Temple is forced to team up with Victor Frankenstein and the vampire Count Szandor against a secret cabal of Illuminati led by Joseph Balsamo. Meanwhile, in Haiti, a resurrected Napoleon faces the zombie armies of Marie Laveau...

Frankenstein in London is the third volume in a prodigious Alternate History saga which embraces the works of Mary Shelley, Paul Féval, Alexandre Dumas and others, written by Brian M. Stableford, an acknowledged master of the genre, author of the critically acclaimed The Plurality of Worlds.

Stableford has been a professional writer since 1965. He has published more than 60 science fiction and fantasy novels, as well as several authoritative non-fiction books. He is also translating the works of Paul Féval and other French writers of the fantastique for Black Coat Press which also published his most two recent fantasy novels: The New Faust at the Tragicomique and The Stones of Camelot.

Contents: Frankenstein in London includes "Where Zombies Armies Clash By Night" and "The Necromancers of London" which appeared respectively in Tales of the Shadowmen Nos. 6 and 7.