The Gates of Hell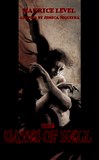 NOTE: YOU ARE PURCHASING AN E-BOOK, NOT A PAPER BOOK. WHEN ORDERING, PLEASE SPECIFY IN THE COMMENTS IF YOU PREFER A PDF OR AN EPUB FILE. THE FILE WILL BE E-MAILED TO YOU AS SOON AS PAYMENT IS RECEIVED.


THE GATES OF HELL
by Maurice Level
adapted by Jessica Sequeira
cover by Daniele Serra
"I'd known the terrified sleep full of nightmares of the guillotine. "


The Gates of Hell is a collection of twenty-six stories originally published in 1910. The tales, in the tradition of the contes cruels, range in subject from a man who keeps a secret with devastating effects, to a maniac who finds thrills in witnessing violent accidents, to a blind peasant who purposely loses his eyesight, to a prostitute who sleeps with the person who executed her husband...

These rich and carefully plotted stories ratchet up suspense, sentence by bewitching sentence. Their horror is based on human behavior and psychological drama, rather than supernatural elements, and the subtle beauty of their descriptions only further intensifies the turn of the knife when it inevitably comes — a truly decadent pleasure.

Maurice Level (1875-1926) was a French writer of fiction and drama whose macabre stories were printed in Parisian newspapers and staged by the Grand-Guignol theater. In his style, he has been compared to his cousin Marcel Schwob, as well as Villiers de l'Isle-Adam, Octave Mirbeau, Guy de Maupassant and Edgar Allan Poe.

The edition includes a historical introduction and notes by translator Jessica Sequeira.

Contents:
Les Portes de l'Enfer (1910)
Introduction and Notes by Jessica Sequeira.