The Human Paradise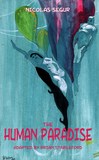 NOTE: YOU ARE PURCHASING AN E-BOOK, NOT A PAPER BOOK. WHEN ORDERING, PLEASE SPECIFY IN THE COMMENTS IF YOU PREFER A PDF OR AN EPUB FILE. THE FILE WILL BE E-MAILED TO YOU AS SOON AS PAYMENT IS RECEIVED.


THE HUMAN PARADISE
by Nicolas Ségur
adapted by Brian Stableford
cover by Mike Hoffman


"God announces, through the mouth of the inspired woman, that he has a message to transmit to the peoples of the earth. He will communicate it to them before a universal assembly in which the leading intellectuals and the natural leaders of the various nations must take part."

The Human Paradise (1930) is a scathingly sarcastic satire in which God offers to grant wishes expressed unanimously by the entirety of humankind. The wishes voiced are carefully extrapolated in such a way as to suggest that, however effective individuals might be at screwing up their wishes, a committee composed of the whole human race could do a far more comprehensive job.

An Isle of Amour (1921) is interesting addition to a sequence of French utopian novels that attempted to get to grips with the thorny question of how best to organize sexual relations in a utopia, and what the social consequences would be of instituting a system of "free love."


Contents:
Une Ile d'Amour (1921)
Le Paradis des Hommes (1930)
Introduction, Afterword and Notes by Brian Stableford.