The Nyctalope vs Lucifer 3: The Triumph of the Nyctalope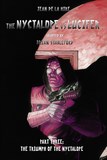 NOTE: YOU ARE PURCHASING AN E-BOOK, NOT A PAPER BOOK. WHEN ORDERING, PLEASE SPECIFY IN THE COMMENTS IF YOU PREFER A PDF OR AN EPUB FILE. THE FILE WILL BE E-MAILED TO YOU AS SOON AS PAYMENT IS RECEIVED.


THE NYCTALOPE VS LUCIFER 3: THE TRIUMPH OF THE NYCTALOPE
by Jean de La Hire
adapted by Brian Stableford
afterword by Jean-Marc Lofficier
cover by denis Rodier

"Saint-Clair saw before him, tearful and desperate, the woman whom he loved. And that woman was a prisoner in the formidable castle of Schwarzrock, where a man reigned who was undoubtedly considering himself to be an incarnation of Satan-a human Satan, cruel, lustful, ambitious, avid and pitiless, armed with an unfathomable occult power... Lucifer!"


Leo Saint-Clair, alias the Nyctalope, was created in 1911 by Jean de La Hire, one of France's most prolific serial writers. Gifted with night vision, hypnotic powers and an artificial heart, Saint-Clair is a fearless hero who battles colorful super-villains. His adventures, which spanned 30 years, created a template that was later adopted by such pulp heroes as Doc Savage (1933), before providing the core mythology of American comic books.

In Lucifer (1921), his second appearance and possibly his greatest battle, the Nyctalope faces Baron Glô von Warteck, a.k.a. Lucifer,whose hypnotic powers, amplified by his "teledynamo," threatens to enslave the world.

Just as Captain America, is the incarnation of the Stars and Stripes, the Nyctalope, stood for the ideals of Colonial France between two world wars. Jean-Marc Lofficier.

Contents: Lucifer (1921) by Jean de La Hire;
Introduction and Notes by Brian Stableford;
Afterword, chronology and bibliography by Jean-Marc Lofficie