The Quest of Frankenstein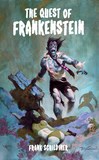 NOTE: YOU ARE PURCHASING AN E-BOOK, NOT A PAPER BOOK. WHEN ORDERING, PLEASE SPECIFY IN THE COMMENTS IF YOU PREFER A PDF OR AN EPUB FILE. THE FILE WILL BE E-MAILED TO YOU AS SOON AS PAYMENT IS RECEIVED.


THE QUEST OF FRANKENSTEIN
by Frank Schildiner
cover by Mike Hoffman


1914. The Frankenstein Monster moves like a shadowy specter through the bloody trenches of war-torn France. Coming across Herbert West, a scientist as brilliant and insane as his creator, the infamous Victor Frankenstein, the creature secures the promise that West will create a mate for him, but only if he can gather all the bizarre ingredients necessary for the task. Thus begins the Quest of Frankenstein, during which the world's most famous monster will face vampires, werewolves, ghouls and other nightmarish creatures from Beyond.

Based on Mary Shelley's immortal creature, as reinterpreted by Academy-Award winning screenwriter Jean-Claude Carrière in the 1950s, The Quest of Frankenstein features a ruthless, demoniacal monster, a cunning killer with a twisted, evil mind and terrifying plans for the world.

Frank Schildiner is a regular contributor to the popular Tales of the Shadowmen series and several other short story collections featuring pulp heroes and villains.
Contents:
Introduction by Jean-Marc Lofficier
The Quest of Frankenstein
Afterword by Frank Schildiner