The Scaffold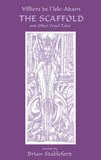 NOTE: YOU ARE PURCHASING AN E-BOOK, NOT A PAPER BOOK. WHEN ORDERING, PLEASE SPECIFY IN THE COMMENTS IF YOU PREFER A PDF OR AN EPUB FILE. THE FILE WILL BE E-MAILED TO YOU AS SOON AS PAYMENT IS RECEIVED.


THE SCAFFOLD AND OTHER CRUEL TALES
by Villiers de L'Isle-Adam
adapted by Brian Stableford
cover by Ladrönn

"The bloody head of the victim, horribly white, the eyes rolling, the eyebrows twisted as if clenched by a rictus, was palpitating between Velpeau's hands. The surgeon quickly bent over it and pronounced the prearranged question in the right ear. The lid of the right eye lowered, while the distended left eye looked at him. 'In the name of God and humanity, give me the sign twice more!' Velpeau cried."

In this collection of "Cruel Tales," we meet a unique and colorful cast of extraordinary characters such as Akedysseril the Queen of India, Mayeris the big game hunter who capured the sacred white elephant, Maryelle the courtesan, Catalina the gypsy toast of Santander, Mahoin the brigand, the murderous Doctor Hallidon and Tomolo Ké Ké the Antipodean who traversed the Earth.

Jean-Marie-Mathias-Philippe-Auguste, Comte de Villiers de l'Isle-Adam (1838-1889), pioneer of the Symbolist Movement, is known for his proto-science fiction works Axel (1885) and L'Eve Future (1886). He also wrote many "cruel tales", only a handful of which have ever been translated until the publication of The Scaffold and the adventures of Doctor Tribulat Bonhomet collected in The Vampire Soul. Poet Paul Verlaine called Villiers' works a "genial melange of irony, metaphysics and terror" and translator Brian Stableford dubs it "a bizarre literary landmark."

Contents:
The Scaffold:
The Secret of the Scaffold
That Mahoin!
Monsieur Redoux's Phantasms
The Perils of Progress:
The Jeu-des-Grâces
The Heroism of Doctor Hallidonhill
The Savage Navigator
The Love of the Natural
Etna in One's Own Home
Exotic Adventures:
The Legend of the White Elephant
Catalina
Tse-i-la's Adventure
Akedysseril
Gifts from Beyond the Grave:
A Tale of the End of Summer
The Right of the Past
The Stake
The Celestial Adventure
The Travails of Creative Artistry:
Plagiarists of the Thunder
The Modern Legend
Milton's Daughters
The Elect of Dreams
The Paradoxes of Passion:
The Lovely Ardiane's Secret
The Lovers of Toledo
Sister Natalia
The Schoolfriends
Sylvabel
Sublime Love
The Better Love
Introduction and Notes by Brian Stableford