Undersea Odyssey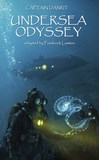 NOTE: YOU ARE PURCHASING AN E-BOOK, NOT A PAPER BOOK. WHEN ORDERING, PLEASE SPECIFY IN THE COMMENTS IF YOU PREFER A PDF OR AN EPUB FILE. THE FILE WILL BE E-MAILED TO YOU AS SOON AS PAYMENT IS RECEIVED.


UNDERSEA ODYSSEY
by Captain Danrit
adapted by Frederick Lawton
cover by Meinert Hansen

Then a dreadful vision rose before me. For Jacques had been able to live in this imprisoned air. But not for long, perhaps a few hours, during which time he would have clung to the bars of the ladder, with the water up to his waist, struggling until the lack of oxygen completed his exhaustion. In the dark, sinister night, what a death must his have been!


Émile-Auguste-Cyprien Driant was a famous French military strategist and politician, who died heroically before Verdun during World War I. Like a 19th century Tom Clancy, Driant also wrote, under the nom-de-plume of "Captain Danrit", a number of very popular "techno-thrillers," which he used to develop his ground-breaking military theories, especially in regards to the application of then-new technologies to modern and future warfare.

In Undersea Odyssey (1908), Driant tackled the use of the modern, 200-ton submarines which had just been introduced in the French Navy a few years earlier, campaigning for more safety measures through the harrowing and suspenseful tale of sailors trapped thirty fathoms below in the Mediterranean.

This book reprints the 1910 translation by Frederick Lawton, and includes a Driant biography and bibliography by Jean-Marc Lofficier.

Translation scanned by Georges T. Dodds.
Contents:
- Robinsons Sous-Marins [Undersea Odyssay a.k.a. The Sunken Submarine] (1907-08)
Introduction and bibliography by Jean-Marc Lofficier.