Argentine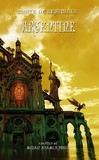 ARGENTINE AND OTHER STORIES
by Antoine-Louis Duclaux, Comte de l'Estoille
writing as "A. de l'Estoille"
Translated by Brian Stableford
Cover by Michel Borderie
You said it, Argentine; I'm Grésil, the king who commands the spirits of the earth, as Perce-Neige commands the spirits of the ice,[1] and I've come to ask for you. Your silver thread is under the ice, it's true, but it's in the ground, so you don't belong to Perce-Neige, you're mine, and I want you for a wife."


US$ 24.95 /GBP 19.99
5x8 tpb, 316 pages
ISBN-13: 978-1-64932022-3

This third and final collection of Comte de L'Estoille's works features Les Amoureuses, a collection of short prose poems and dramas, including "Gyptis," a tragedy set within the context of L'Estoille's pseudohistory of Gaul, and "Marthe" and "Rosalie," both resentful responses to the French defeat in the Franco-Prussian War. It also contains the more upbeat "Argentine" and "Lemmi Kainen", both reflective of a burst of interest in Scandinavian mythology among French neo-Romantic writers, borrowing motifs from Hans Christian Andersen.

As an eccentric representative of the literary avant garde, L'Estoille was always perhaps a little too and paradoxical, but that is not a bad thing in a Decadent artist. He was a maverick even within that motley maverick school, but for connoisseurs of the unusual, that serves only to make him even more interesting as a writer and as a man.

CONTENTS:
Introduction
Les Amoureuses (1883):
Rhodope
Gyptis
Morgane
Balkis
Hélène
Marthe
Alsa
Meyrin
Rosalie

Tales of the North (1892):
Argentine: A Norwegian Tale
Lemmi Kainen: A Finnish Tale