Arsene Lupin: The Island of the Thirty Coffins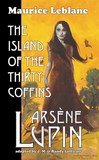 ARSENE LUPIN: THE ISLAND OF THE THIRTY COFFINS
by Maurice Leblanc
adapted by J-M. & R. Lofficier
cover by Mike Hoffman

"Vorski is the mightiest of men! Vorski is the master of fate! The elements and the powers of nature are compelled to do his bidding! Vorski is the new prophet! Let the Superior Unknown be ready! Let him arise from the darkness and ascend from Hell! Here stands Vorski!"

US$22.95/GBP 14.99
5x8 tpb, 300 pages
ISBN-13: 978-1-61227-338-9

At long last, Arsène Lupin sets his sights on the fourth and final secret of Cagliostro: the God-Stone of the Kings of Bohemia, a miraculous stone that has the power "to give life and death," hidden on the island of Sarek, nicknamed the "Island of the Thirty Coffins" because of its barrier of deadly reefs.

In The Island of the Thirty Coffins (1919), Arsène Lupin is summoned back to France in May 1917 by one of his friends and travels to the accursed island of Sarek off the coat of Brittany to save the beautiful Veronique d'Hergemont from the clutches of the murderous Vorski.

Fraught with terror and supernatural perils, The Island of the Thirty Coffins is one of Maurice Leblanc's best thrillers. Retranslated here for the first time, this edition also includes an all-new epilogue written especially by noted lupinologist Jean-Marc Lofficier.
Contents:
- Introduction by Jean-Marc Lofficier
- The Island of the Thirty Coffins (L'Ile aux Trente Cercueils, 1919) by Maurice Leblanc
- Brighter than the Sun (epilog) by Jean-Marc & Randy Lofficier