Exquisite Pandora & Other Fantastic Adventures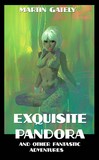 EXQUISITE PANDORA & OTHER FANTASTIC ADVENTURES
By Martin Gately
Foreword by Adrian Cole
Cover by Mike Hoffman

She liked to run. It reminded her that she was free...

US$ 24.95 /GBP 19.99
5x8 tpb, 320 pages
ISBN-13: 978-1-61227-991-6
The creation of a new kind of woman may bring doom to all men... Avoid Sherwood Forest at night, or risk becoming a participant in the deadliest blood sport of all... What would you be willing to do to bring Jack the Ripper to justice? A prehistoric wolf is loose in the timestream…

In this collection of 15 stories, eight of which original, Martin Gately treats us to a rich, eclectic mix, ranging from the authentic shudder of Lovecraft's Mythos to Phil Farmer-esque time twisting, a new Sherlock Holmes yarn, pulp crime fighting, SF a la Philip Dick and horror in the vein of Sheridan le Fanu.

Martin Gately, author of the authorized sequel to Philip José Farmer's The Green Odyssey, has also written the Starblazer comic book published by DC Thomson and occasionally contributes to the British edition of the Fortean Times. His latest work is an adaptation of Edgar Rice Burroughs' Pirate Blood as a comic book.


CONTENTS:
Foreword.
The Mask of Nithon.
The Moon Hag.
Exquisite Pandora.
Not a Sport for Sunday.
The Adventure of the Snaresbrook Assizes.
The Columbia Road Blasphemy.
The Roebuck Cabal
The White Box.
The Cataclysm will not be Televised.
Dam Busters of Mars.
The Wolf at the Door of Time.
The Curse of the Frost Wolf.
Khronopulo and the Schoengarth Bequest
The Unfettered Man.
The Sons of Crystal City.
Sources.