Fu Manchu: The Destiny of Fu Manchu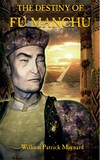 THE DESTINY OF FU MANCHU
by William Patrick Maynard
cover by Christine Clavel

Fearing for my sanity, I slid to the floor and wept as the very real possibility of madness, that terrible affliction that threatened to claim me since childhood, raised the specter of its awful head once more. I had gazed into the face of insanity this day and had learned that it answered to the name of Dr. Fu Manchu.

US$20.95/GBP 12.99
5x8 tpb, 264 pages
ISBN-13: 978-1-61227-088-3

Michael Knox is the brash and arrogant assistant of renowned archaeologist Dr. Spiridon Simos. A chance encounter with a beautiful Egyptian woman at Dr. Simos' wedding in Corfu leads the young man on a whirlwind journey to Cairo where he barely survives the terrifying reincarnation of the ancient Pharaoh Khunum-Khufu.

A chain of events quickly unfold that embroils Knox with obsessive British agent, Sir Denis Nayland Smith, and his pursuit of the master criminal, Dr. Fu Manchu. Slowly, the young man begins to piece together the threat posed to the world as Fu Manchu and his seductive, but sadistic daughter Koreani tear the dread secret society, the Si-Fan, apart.

Before Michael Knox can act on the intelligence in his possession, he must first survive death in a myriad of strange guises from a savage gorilla trained to crush a man's spine to the unrelenting pursuit of Margarita, the disarming dwarf assassin who brings terror to the Orient Express, to one thousand poisonous butterflies unleashed at the Munich Conference as Europe teeters on the brink of a Second World War.

As madness sweeps the globe, one hedonistic young man must examine his own life as he realizes the world's future hangs in the balance. The action moves swiftly from Greece to Egypt to Africa to Europe in a breathtaking battle of ideologies as Sax Rohmer's infamous creation seeks to realize THE DESTINY OF FU MANCHU...
Contents:
- Introduction by William Patrick Maynard
- The Destiny of Fu Manchu by William Patrick Maynard