Harry Dickson: The Werewolf of Rutherford Grange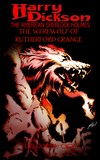 HARRY DICKSON The American Sherlock Holmes:
THE WEREWOLF OF RUTHERFORD GRANGE
by G. L. Gick
cover by Matt Haley

"Something came through the window," I snapped. My hands pressed against several pieces of glass, cutting myself, but I ignored it. "But God knows--oh my!" I drew back. Kritchna leaned forward, holding the candle out. He swallowed. There on the bed, lying in a bloody heap, was the tiny, twisted body of Colleen the cat. Her head had been completely severed from her neck.

US$19.95/GBP 12.99
5x8 tpb, 212 pages
ISBN-13: 978-1-935558-80-4

This collection includes the title story, in which the young American Sherlock Holmes teams up with the great occult detective, Sâr Dubnotal, to defeat a monstrous creature from beyond, as well as a never before translated original Harry Dickson tale from 1935 which lifts the veil over one of the detective's earliest cases in post-War 1919 Germany.

This volume also includes four more stories by G. L. Gick, two of which appear here for the first time, featuring such legendary pulp characters as Doctor Omega, Irma Vep of the Vampires, Tros of Samothrace and Madame Atomos.
Contents:
The Werewolf of Rutherford Grange
Beware the Beasts (Doctor Omega)
Tros Must Be Crazy! (Tros of Samothrace)
Who Made Me Such A Woman? (Madame Atomos) (new)
Sacrebleu! (Irma Vep) (new)
Harry Dickson vs. Professor Krause (from Harry Dickson #141, July 1935) (new)