Harry Dickson vs. Mysteras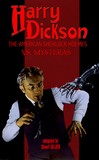 HARRY DICKSON The American Sherlock Holmes vs MYSTERAS
From The Secret Files of The King of Detectives
translated from the French by Stuart Gelzer
cover by J.-M. Nicollet

Mysteras! You were born from death, and no human power can destroy you.


US$ 20.95/GBP 16.99
5x8 tpb, 244 pages
ISBN-13: 978-1-64932-086-5

When inhuman monsters walk the Earth, Justice has no stronger defenders than Harry Dickson and his assistant Tom Wills, who fight the forces of evil and cast them back into the Darkness from whence they came.

Harry Dickson began as an unauthorized Sherlock Holmes pulp series in Germany in 1907, before changing its name and morphing into a hugely popular saga in Holland, Belgium and France, with 178 issues published between 1927 and 1938, especially after it was entrusted to the editorship of Belgian horrormeister Jean Ray.
This volume includes four original episodes: Mysteras, in which Dickson meets his match in a villain who relies on elaborate and deadly illusions; The Tribunal of Terror, in which the dreaded Mysteras returns, vowing vengeance against Dickson; The Path of the Gods, in which Dickson faces a blood-thirsty Chinese ghost; and The Devil's Bed, in which Dickson discovers the last living ancient Babylonian priests -- plus a bonus short story, Harry's Homecoming.

This famous Holmesian pastiche has been translated by Stuart Gelzer and includes the original cover illustrations.
Contents:
Introduction by Jean-Marc Lofficier
103. Mystéras (1933)
104. La Cour d'Épouvante (The Tribunal of Terror) (1933)
106. Le Chemin des Dieux (The Path of the Gods) (1934)
147. Le Lit du Diable (The Devil's Bed) (1935)
Bonus Story: Atom Bezecny: Harry's Homecoming (2016)