Judex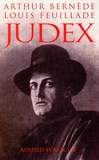 JUDEX
by Arthur Bernède & Louis Feuillade
adapted by Rick Lai

"Banker Favraux, I had condemned you to death. Your daughter's generous donation of her inheritance to the Public Assistance, saved your life; but I condemn you to eternal imprisonment."
JUDEX!

US$24.95/GBP 16.99
5x8 tpb, 364 p.
ISBN-13: 978-1-61227-085-2

In 1917, silent film director Louis Feuillade and writer Arthur Bernède created the character of a mysterious avenger, wearing a slouch hat and a dark cloak -- Judex! His name means "Judge," and he has sworn to mercilessly punish criminals!

Judex appears and disappears like a living shadow. Trained by the vindictive Woman in Black, he is a master of disguise and an excellent fighter. His loyal followers include a female athlete, a reformed ex-convict and a pack of vicious bloodhounds. Beneath the ruins of a castle is his secret lair, where he interrogates his prisoners through a "television" screen. His nemesis is Favraux, a corrupt banker who has left a trail of ruin and misery in his wake.

In this epic saga, Judex not only challenges Favraux, but also the evil Diana Monti, Favraux's fiancée who is as ruthless and powerful as he is. But as our hero struggles against the villains, he falls in love with Favraux's daughter, the beautiful, innocent Jacqueline...

Contents:
Introduction
JUDEX (1917)
Part One: The Mysterious Shadow
Part Two: The Atonement
Part Three: The Amazing Dogs
Part Four: The Secret of the Tomb
Part Five: The Mill of Misery
Part Six: The Licorice Kid
Part Seven: The Woman in Black
Part Eight. The Caverns of the Chateau Rouge
Part Nine: When the Child Appeared
Part Ten: The Heart of Jacqueline
Part Eleven: The Water-Sprite
Part Twelve: Love's Forgiveness
The Continuity and Chronology of Judex
Judex and The Shadow
A List of Judex Pastiches