Mephista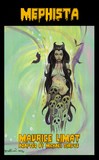 MEPHISTA
by Maurice Limat
adapted by Michael Shreve
cover by Mike Hoffman

"I am hatred... I am evil... I am death... I AM MEPHISTA!"

US$22.95/GBP 14.99
6x9 tpb, 296 pages
ISBN-13: 978-1-61227-434-8

Who is Mephista? Is she a fictional character born of the minds of screenwriters? Or is she a demon from the bowels of Hell itself? Meet Edwige Hossegor, the beautiful and kind-hearted actress whose evil alter ego kills mercilessly; the equally stunning Olga Mervil, who is ready to sign a pact with Satan in order to replace Edwige; a movie studio plagued by mysterious murders; a cult of devil worshippers in the cartacombs of Paris; and a deadly circus of freaks... At the center of it all is Teddy Verano, the P.I. whose mission in life is to expose monsters and defeat evil!

Maurice Limat, who passed away in 2002, was the dean of French popular fiction, having begun his career in 1936 and published well over 500 novels in every genre. This book collects the first three novels in his popular Mephista series from the late 60s/early 70s, starring his signature character, Teddy Verano.

Also included in this volume are an autobiographical article by Limat himself, and articles about Verano and Mephista.
Contents:
1. Mephista [Mephista] (1969)
2. Mephista vs Mephista [Mephista contre Mephista] (1969)
3. The Scarlet Clown [Mephista et le Clown Ecarlate] (1970)
Introduction by Jean-Marc Lofficier
The Man of a Million Words by Maurice Limat
The Life and Times of Teddy Verano by Jean-Marc Lofficier
Whence Mephista? by Artikel Unbekannt