Michael Moorcock's Legends of the Multiverse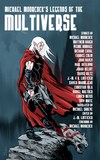 MICHAEL MOORCOCK'S LEGENDS OF THE MULTIVERSE
edited by J-M. Lofficier; translations by Michael Shreve
cover by Michel Borderie
The Michael Moorcock characters used herein are trademarks of Michael Moorcock and are used with his permission.
US$ 29.95 /GBP 19.99
5x8 tpb, 380 pages
ISBN-13: 978-1-61227-272-6
Foreword by Michael Moorcock. Stories by Matthew Baugh, Pierre Bordage, Richard Canal, Fabrice Colin, John Davey, Paul DiFilippo, Johan Heliot, Travis Hiltz, J.-M. & Randy Lofficier, Xavier Mauméjean, Michael Moorcock, Christian Vilà, Daniel Walther, Ehrich Weiss and Tony White. Translations by Michael Shreve. Introductions by J.-M. Lofficier.
Elric of Melniboné... Duke Dorian Hawkmoon of Köln... Prince Corum Jhaelen Irsei of the Scarlet Robe... The unflappable English Assassin Jerry Cornelius... Time-lost Oswald Bastable... Count Renark von Bek of the Sundered Worlds... Over the years, Michael Moorcock has captivated readers with his unending versions of the Eternal Champion, the timeless warrior who serves the Cosmic Balance in the ongoing battle that rages between Law and Chaos through the many planes and levels of the multiverse.
This volume features all of the characters mentioned above and more, collecting two stories written by Michael Moorcock for the Tales of the Shadowmen series, sixteen more stories by some of America, England and France's best-loved sf and fantasy writers , plus a foreword penned by Moorcock for an earlier French companion anthology, translated by Michael Shreve and introduced by Jean-Marc Lofficier.
Contents:
Introduction by J.-M. Lofficier
Michael Moorcock: Foreword to The Gate of Worlds
Michael Moorcock: The Affair of the Bassin des Hivers
Matthew Baugh: The Garden of Everything
Pierre Bordage: The Archivist
Richard Canal: The Child of the Future
Fabrice Colin: Eulogy for The Abyss Fish
John Davey: An Organ of Bones
John Davey: Death of a Dark Ship
Paul DiFilippo: The Stealer of Marketshare
Johan Heliot: The Music of Souls
Travis Hiltz: War on the Moon
Jean-Marc & Randy Lofficier: J.C. in Alphaville
Xavier Mauméjean: Qayin
Christian Vilà: Brother of the Hyenas
Daniel Walther: Heart of Ice
Tony White: Stormbringer
Tony White: The Jet Set Girls
Ehrich Weiss: Renark's Dream
Michael Moorcock: The Icon Crackdown