Singular Amours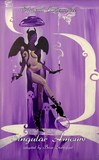 SINGULAR AMOURS
by Edmond Thiaudiere
adapted by Brian Stableford
cover by Mike Hoffman


I was careful, however, every evening before going to bed, to put the skeleton inside the divan that served as my bed.


US$ 20.95/GBP 12.99
5x8 tpb, 264 pages
ISBN-13: 978-1-61227-730-1

Singular Amours is a collection of three novellas published in 1886; it is the fruit of the author's interest in psychological science, and represents a significant contribution to the evolving subgenre of "case study" fiction. What Thiaudière calls "singular amours" explores unusual instances of passion, in the hope that the peculiarities of the phenomenon might be brought out more clearly by the contemplation of its extremes.

The three examples offered in the book provide an interesting spectrum, from a fascinating account of a psychological haunting, to a study of obsessions couched as a mystery story, nda remarkable narrative of psychological dependency.

Edmond Thiaudière (1837-193)) was a novelist, poet, philosopher, a pacifist and the founder in 1876 of the prestigious Revue des Idées Nouvelles.


Contents:
[Trois Amours Singulières, 1886]
Introduction, Afterword and Notes by Brian Stableford.