Tales of the Shadowmen 14: Coup de Grace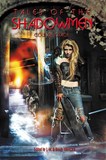 TALES OF THE SHADOWMEN 14: COUP DE GRACE
edited by J-M. & R. Lofficier
cover by Florine Rétoré

US$23.95/GBP 14.99 - 6x9 tpb, 300 p. - ISBN-13: 978-1-61227696-0
TABLE OF CONTENTS:
Matthew Baugh: The Lights on Haint Mountain (starring Silver John, Madame Atomos)
Adam Mudman Bezecny: The Curse of Orlac (starring Orlac, Sar Dubnotal)
Nathan Cabaniss: Hero of Two Worlds (starring the Marquis de Lafayette)
Matthew Dennion: A Case of Mistaken Identity (starring Tedduy Verano, the Highlander)
Brian Gallagher: The Death of Von Bork (starring Captain Vampire, Irma Vep)
John Gallagher: Princes of the Universe (starring Solomon Kane)
Martin Gately: Rouletabille at the Old Bailey (starring Rouletabille)
Micah S. Harris: Beneath the Mount of Divination (starring Aramis, Brom Cromwell)
Travis Hiltz: The Case of the Remains to be seen (starring Spiridon, Prof. Brainerd)
Paul Hugli: The Night of the Dazzling Sun (starring Honey West, Tom Wills, The Nyctalope)
Matthew Ilseman: Guided Tours of Famous Secret Places (starring Haunted Places of Paris)
Rick Lai: Phantom Masquerade (starring Fantômas)
Nigel Malcolm: Tomorrow belongs to the Nyctalope (starring The Nyctalope, Stalker)
Christofer Nigro: Kindred Beasts (starring Judex, Felifax)
Frank Schildiner: Dice, Pearl and Sword (starring Rocambole, Zatoichi)
Michel Stéphan: The Odyssey of Madame Atomos (starring Madame Atomos)
Artikel Unbekannt: The Yellow Peril (starring The Yellow Shadow)
David L. Vineyard: The Third Eye of Osiris (starring Arsene Lupin, Fu Manchu)
Coup de grâce – the ultimate blow, the final strike in the merciless battle that pits good vs evil, heroes vs villains! But does it signal the triumph of order or the victory of chaos?

In this fourteenth volume of Tales of the Shadowmen, the Marquis de Lafayette finds himself transported to Mars while Silver John runs afoul of Madame Atomos. Captain Vampire is plagued by Irma Vep. The Highlander challenges the leader of the Black Coats. Rouletabille appears at the Old Bailey. Aramis clashes with the unearthly presence of Baal. Rocambole meets Zatoichi, Honey West teams up with the Nyctalope, and Fantômas pays his debt to the King in Yellow.

Also starring Arsène Lupin, Felifax, Sâr Dubnotal, Harry Dickson, Teddy Verano, and many more.
Tales of the Shadowmen is the only anthology dedicated to the international heroes and villains of pulp literature, where writers from all over the world pay homage to those great champions and master criminals who enchanted our adolescence.