Tales of the Shadowmen 4: Lords of Terror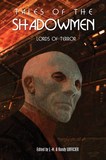 TALES OF THE SHADOWMEN 4: LORDS OF TERROR
edited by J-M. & R. Lofficier
cover by Ladrönn

US$22.95/GBP 14.99 + $3.50 p&h
6x9 tpb, 300 p.
ISBN-10: 1-934543-02-0, ISBN-13: 978-1-934543-02-3

Contents:
Matthew Baugh: Captain Future and the Lunar Peril starring Captain Future, Eric John Stark, Northwest Smith, St. Menoux.
Bill Cunningham: Fool Me Once... starring Harry Dickson, Fascinax.
Win Scott Eckert: The Atomos Affair starring Madame Atomos, UNCLE.
Micah Harris: The Anti-Pope of Avignon starring Solomon Kane, Fausta.
Travis Hiltz: Three Men, A Martian and a Baby starring Dr. Omega and a surprise guest.
Rick Lai: Corridors of Deceit starring Josephine Balsamo, the Black Coats, Fantômas, Mabuse.
Roman Leary: The Evils Against Which We Strive starring Sâr Dubnotal, the Shadow.
Jean-Marc Lofficier: Madame Atomos' XMas starring Madame Atomos.
Randy Lofficier: The Reluctant Princess starring Doc Ardan.
Xavier Mauméjean: A Wooster Xmas starring Hercule Poirot, Bertie Wooster.
Jess Nevins: Red in Tooth and Claw starring Rocambole.
Kim Newman: Angels of Music II: The Mark of Kane starring The Phantom of the Opera, Gigi, Eliza Doolittle, Rima, Charles Foster Kane.
John Peel: Twenty Thousand Years Under the Sea starring Captain Nemo, Cthulhu.
John Shirley: Cyrano and the Two Plumes starring Cyrano de Bergerac, d'Artagnan.
Steven A. Roman: Night's Children starring Irma Vep, Count Orlock.
Brian Stableford: The Return of Frankenstein (Part III of The Empire Of The Necromancers) starring Gregory Temple, Victor Frankenstein, Malo de Treguern.

Join us again for this fourth volume and meet the most villainous cast to ever grace the pages of popular literature, spreading evil from the foggy underworld of London to the seedy taverns of Mars, and from the flowery banks of the Seine to New York's grimy Hell Kitchen... Fantômas, Countess Cagliostro, Victor Frankenstein, Irma Vep, Count Orlock, Erik, Madame Atomos, the Black Coats, Charles Foster Kane, and even Great Cthulhu himself... Dare meet--the Lords of Terror!

This anthology of all-new stories, featuring Heroes and Villains from Pulp Literature, edited by JM & Randy Lofficier, combines the talents of renowned authors such as Kim Newman (Anno Dracula), John Peel (Doctor Who, Star Trek), Brian Stableford (Inherit the Earth , Architects of Emortality), John Shirley, Steven A. Roman, Xavier Mauméjean, with a new generation of gifted storytellers such as Matthew Baugh, Win Eckert, Rick Lai, Travis Hiltz and Micah Harris.