The Crazy Corner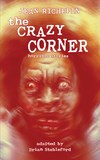 THE CRAZY CORNER
Horrible Stories
by Jean Richepin
adapted by Brian Stableford
cover by Amar Djouad

The inconsolable lover had the fantastic idea of tanning the mysterious woman and giving her back to himself as a living form. When he had reinflated that abominable pelt, in his adoring aberration, he still found her beautiful, and knelt before her, and asked her forgiveness...

US$22.95/GBP 14.99
5x8 tpb, 308 pages
ISBN-13: 978-1-61227-142-2

Mad scientists, parrots from Atlantis, witches, madmen, monsters, korrigans, demons, magical paintings and a water sprite trapped in a mirror are but a few of the amazing characters featured in this collection of 45 stories aptly entitled The Crazy Corner which maps out the frontier between madness and nightmare.

Of all the late 19th century writers of contes cruels, Jean Richepin (1849-1926) was the cruelest when it came to the treatment of his characters, not so much in the nasty fates to which they were often delivered -- which are typical of the entire genre -- but in the merciless way in which he describes and characterizes them.

Contents:
The Crazy Corner [Le Coin des Fous] (1921)
Lilith
A Legacy
The Clock
The Parrot
The Two Portraits
The Enemy
A Duel of Souls
The Painter of Eyes
The Mirror
Fezzan
The Other Eyes
The Gaze
The Red Casket
In a White Dress
The Kid-Goat
Booglottism
The Mask
The Ugly Sisters
The Double Soul
The Other Sense
The City of Gems
The Plague-Man
The New Explosive
Nightmares [Cauchemars] (1892)
Pft! Pft!
An Adventure
Immorality
The Man with the Pale Eyes
Countess Satan
The Morillonne
The Malay
The Old Fogey
In Less Time that it Takes to Write….
Correspondences
The Murder at The Pitcher that Pitches
Dead Drunk
Mademoiselle
Violated
Jeroboam
Tales Without Morals [Contes sans morale] (1922)
Behemoth
The Korrigan
An Honest Man
A Monster
The Two Gwaz
A Confession
Chimerical Theater [Théâtre chimérique] (1896)
The Monster
Introduction and Notes by Brian Stableford.