The Doctored Man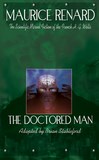 THE DOCTORED MAN
by Maurice Renard
adapted by Brian Stableford
cover by Gilles Francescano

"Because," Hopkins cried, triumphantly, "one can't become invisible without becoming blind, and Wells is pulling a fast one when he shows us an invisible man who can see! An invisible eye is inoperative. An invisible man is inevitably a blind man!"

Contents:
- M. d'Outremort (1913)
- The Cantatrice (La Cantatrice, 1913)
- The Man with the Rarefied Body (L'Homme au Corps Subtil, 1913)
- The Fog of October 26 (Le Brouillard du 26 Octobre, 1913)
- The Doctored Man (L' Homme Truqué, 1921)
- The Man Who Wanted to be Invisible (L' Homme qui Voulait Etre Invisible, 1923)
- Since Sinbad (Depuis Sinbad, article, 1923)
- The Frog (La Grenouille, 1926)
- Hypothetical Fiction (Le Roman d' hypothèse, article, 1928)
- The Discovery (La Découverte, 1929)
- The Truth About Faust (La Vérité sur Faust, 1929)
- Them (Eux, 1934)
- The Shark (Le Requin, 1939)
- When Hens Had Teeth (Quand les Poules Avaient des Dents, 1939)
- On the Planet Mars (Sur la Planète Mars, 1939)
Introduction and Afterword by Brian Stableford.

US$ 22.95 /GBP 14.99
5x8 tpb, 280 pages
ISBN-13: 978-1-935558-18-7
Often hailed as the best French science fiction writer of the early 20th century, Maurice Renard coined the term "Scientific Marvel Fiction" to pen a series of gripping, ground-breaking stories that owe as much to Edgar Allan Poe as they do to H.-G. Wells. Until now, Renard was best known to the English-speaking public for his thrice-filmed thriller, The Hands of Orlac.

This is a series of five volumes, translated and annotated by Brian Stableford, devoted to presenting the classic works of this pioneering giant of French science fiction.


The Doctored Man, a collection of 14 stories, features a man blinded during WWI who, through the grafting of "electroscopic" eyes, can see into other dimensions, the classic The Man Who Wanted To Be Invisible in which Renard exposes the scientific fallacy inherent in Wells' famous novel, as well as other ground-breaking tales of time-travel, prehistoric wing-men, intangibility, robotic cars and interplanetary travel!