The Exigent Shadow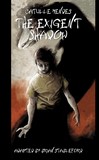 THE EXIGENT SHADOW & OTHER STRANGE OBSESSIONS
by Catulle Mendes
introduced & adapted by Brian Stableford
cover by Daniele Serra
I did not see on the pallor of the path, my own face; I did not see my forehead, I did not see my hair. My true lips brushed her lips, but above the neck, my shadow had no mouth, nor forehead, nor hair. My shadow had no head.


US$22.95/GBP 12.99
5x8 tpb, 260 pages
ISBN-13: 978-1-61227-849-0
The present volume is one of a set of three collections assembling a substantial fraction of the short fantastic fiction of Catulle Mendès (1841-1909). It assembles 23 tales of the fantastique dealing with anomalous events and altered states of consciousness that might or might not have supernatural causes.

Other writers such as Marcel Schwob have written stories of the same kind, but Mendès' work in that vein is particularly interesting, not merely by virtue of its profusion and its uncommon imaginative range, but also because of its macabre humor and its straightforward disturbing aspects.

That combination of effects makes the present collection unique with in the field of weird fiction, and quite fascinating.
Introduction
The Man in the Green Caravan
The Pond
The Amorous Child
The Bouquet of Forget-me-Nots
The Unexpected
Wedding Night
The Guest
Possessed
The Arsonist
The Flute-Player
The Tearful Day
The Chaste Town
56 Rue des Filles-Dieu
The Exigent Shadow
The Village near the Road
Fear on the Island
The Reflection, the Odor, the Flame and the Image
The Portrait on the Empty Wall
Effects without Causes
The Curious Adventure of a Hat
The Gratitude of a Trumpet
Official Record of an Interrogation
The Tears that do not know what to Mourn


The short fantastic fiction of Catulle Mendès (1841-1909) produced c. 1882-1904.