The Exploits of Professor Tornada (Vol. 3)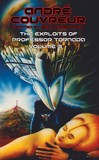 THE EXPLOITS OF PROFESSOR TORNADA - VOLUME 3
by André Couvreur
adapted by Brian Stableford
cover by Mandy

André Couvreur (1865-1944) was a medical doctor who penned several medical treatises, and was also the author of eight romans scientifiques dealing with "medical concepts" featuring the mad scientists Doctor Caresco, then Professor Tornada. These are collected in a series of five volumes, translated and annotated by Brian Stableford, presenting for the first time the ground-breaking works of this pioneer of French science fiction.

"Couvreur's works are unusually exotic, and unparalleled in the history of imaginative fiction." Brian Stableford.

US$22.95/GBP 12.99
5x8 tpb, 308 p.
ISBN-13: 978-1-61227-281-8

Tornada pushed the needle into the heart of the man of whom he had operated. He withdrew it swiftly, turned the mummy over, and repeated the installation in the spinal column. Then, the prodigy accomplished. Already, the tissues of the reanimated individual were regenerating. Already, his face was flushed, his breast was rising, his muscles quivering and his hair prickling. Everything, in that cadaver of sorts, was resuming the tranquil appearance of a man asleep.

In The Biocole (1927), Professor Tornada conquers death itself and becomes the creator and virtual god of a utopian enclave called Biocolia. In The Case of Baroness Sasoitsu (1939), the eccentric scientist solves a baffling murder case by using his psychovisor which translates thoughts into images. The book also includes the novella In the Afterlife (1936), a story in a lighter comic vein.