The Four Beauties and the Four Beasts (The Fay Ouroucoucou 2)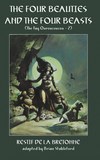 THE FOUR BEAUTIES AND THE FOUR BEASTS (The Fay Ouroucoucou 2)
by Nicolas-Edmé Restif de la Bretonne
adapted by Brian Stableford
cover by Mike Hoffman

US$ 20.95 /GBP 12.99
5x8 tpb, 236 pages
ISBN-13: 978-1-61227-602-1
Nicolas-Edmé Restif de la Bretonne (1734-1806) produced over 180 books, totaling some 57,000 pages, many of them printed by his own hand, on almost every conceivable subject. Praised in Germany, he was mostly forgotten in France until being rediscovered by the Surrealists in the early 20th century. Several of his most important works are being presented here for the first time in English.

This volume contains two fantasy tales, The Four Beauties and the Four Beasts and The Demicock, both featuring the character of the Enchantress Ouroucoucou. Written between 1775 and 1785, they are fascinating examples of a particular phase in the evolution of fantasy fiction, and of one exceptional author's contribution to that progress.
Contents:
Contes Bleus: Le Demi-Coq + Les Quatre belles et les quatre bêtes, both included in Le Nouvel Abeilard (1778-89)
Introduction, Afterword and Notes by Brian Stableford.