The Givreuse Enigma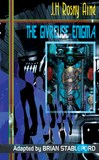 THE GIVREUSE ENIGMA AND OTHER STORIES
by J.-H. Rosny Aîné
adapted by Brian Stableford
cover by Vincent Laik

The major held two sets of identity papers, which filled their hearts with fear. They were absolutely identical. Each of them referred to Edouard-Henri-Pierre de Givreuse, born at Avranches on March 17, 1889. Each of them recorded a height of 1,74 meters, and advertized the nth company of the nth infantry division.
"It's the same identification!" he concluded.
"But no authority would give two identical sets of papers to two different individuals, even if they were twins! Of what supernatural trickery are we victims?"

Contents:
- Mary's Garden (Le Jardin de May) (1895)
- The Givreuse Enigma (L'Enigme de Givreuse) (1917)
- Adventure in the Wild (La Sauvage Aventure) (1935)
Introduction and Afterword by Brian Stableford.

US$ 22.95 /GBP 14.99
5x8 tpb, 316 pages
ISBN-13: 978-1-935558-39-2

A man is found mysteriously duplicated in the trenches of World War I. Brilliantly prefiguring the theme of cloning, The Givreuse Enigma (1917) features the "bipartition" of a human being into two totally similar individuals, each naturally believing himself to be the original.

Adventure in the Wild (1935) takes place in the savage, unexplored depths of Sumatra where brave explorers encounter the mysterious hidden race of the bestial Carabao Men, creatures with "monstrous heads, eyes as phosphorescent as a leopard's, canines elongated into tusks, and hair the color of iron. "
J.-H. Rosny Aîné is the second most important figure in modern French science fiction after Jules Verne. Rosny, who was a member of the distinguished Goncourt literary academy, was also the first writer to straddle the line between mainstream literature and science fiction. Until now, Rosny has best been known to the English-speaking public for his prehistoric thriller, Quest for Fire.

This is a series of seven volumes, six of which are translated and annotated by Brian Stableford, devoted to presenting the classic works of this giant of French science fiction.

Consulting editor: Paul Wessels.