The Land of Delights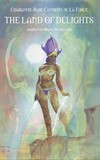 THE LAND OF DELIGHTS: TALES OF ENCHANTMENT
by Charlotte-Rose Caumont de La Force
adapted by Brian Stableford
cover by Mike Hoffman
There is in the world a place that is called the Land of Delights; you didn't see it when I taught you geography because it isn't on the map; that's a mystery.

US$ 18.95/GBP 12.99
5x8 tpb, 180 pages
ISBN-13: 978-1-61227-760-8

Les Contes de Contes[1] bearing the signature Mademoiselle de ***, was originally printed in Paris in two volumes in July 1697, and reissued in 1707, this time being attributed to Charlotte-Rose Caumont de La Force (1650-1724).

Of all the pioneering writers of contes de fées, La Force is perhaps the one who took the greatest imaginative license from the freedom to make arbitrary inventions and narrative moves. Her tales tell a story that is very different from the historical fantasies built on Perrault's moralistic tales for children. The morals attached to Mademoiselle de La Force's tales are certainly not aimed at children. In fact, what distinguishes her tales from those of her most famous contemporaries is their evident moral unease.

By far the most famous of her tales is "Persinette" which was plagiarized by Friedrich Schultz, who retitled it "Rapunzel" (1790), and it was subsequently collected under that title by the Brothers Grimm. That version became the basis for the Disney film Tangled (2010).

All eight stories collected here give evidence of some painful existential wounds that led the author to say of herself, "I have always been deceived, and only found in my entire life one good friend; I have had perfidious and false friends in quantity…."


Contents: LES CONTES DE CONTES (1697)
The Publisher to the Reader
More Beautiful than a Fay
Persinette
The Enchanter
Tourbillon
Green and Blue
The Land of Delights
The Power of Amour
The Good Woman
Introduction and Notes by Brian Stableford.