The Last Days of Atlantis 2: The Sword of Argall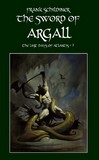 THE LAST DAYS OF ATLANTIS 2: THE SWORD OF ARGALL
by Frank Schildiner
cover by Mike Hoffman
A yellow and blue flame danced along the blade's edge, exuding a powerful heat that simply warmed Argall.

US$ 22.95 /GBP 20.99
5x8 tpb, 288 p.
ISBN-13: 978-1-64932-121-3


In ancient days, before Atlantis fell beneath the waves, a prophecy addressed to Soroe the Priest-Queen and Argall, a warrior of the frigid north and a distant descendent of the first King of Atlantis, stated:

"The stars and the fates weave the tapestries of your lives. One who live as two, uncrowned and ruling the lands. Find the sword whose heat shall destroy the Wyrm. Extinguish the Prince of Poison or the dark god shall rise and consume the land…"

Obeying the will of the gods, Argall, the mysterious masked warrior known as the Accursed One, and the shapeshifting Macha travel east to storm the nest of the foul Mother of the Dimme-kur, while Soroe, Deena her young friend turned oracle, and Nikke the Finder go north to face the unholy worshippers of Moloch on the deadly plains of Lamb'Ha.…

The Sword of Argall is the second in a series of sword and sorcery novels based on the 1905 French fantasy classic, THE LAST DAYS OF ATLANTIS., by Charles Lomon & P.-B. Gheusi, after THE SOUL OF SOROE.