The Magnetized Corpse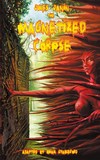 THE MAGNETIZED CORPSE
and Other Paradoxical Tales
by Jules Janin
adapted by Brian Stableford
cover by Mariusz Gandzel

"Belfort," said the scientist, after a few passes, "what have you been doing since you died?" "In truth, my dear chap," the dead man replied, "I've been obliged to follow you everywhere you went."

US$22.95/GBP 14.99
5x8 tpb, 276 pages
ISBN-13: 978-1-61227-248-1

Imbued with a sense of light-hearted cynicism, literary crictic Jules Janin (1804-1874) penned a vast number of eccentric and sometimes improvised fantastic and horror stories, now mostly forgotten. This first-ever American collection gathers a sampler of his unusual talent, as exemplified by the eponymous tale about a dead man kept alive by magnetism, published several months before Poe's "The Facts in the Case of M. Valdemar" (1845).

Other tales gathered here include fake folk legends, paradoxical ghost stories in the vein of ETA Hoffmann, and surreal reflections on the supernatural nature of music. "Janin was probably closer to Poe in spirit, although his ambition took him in a different direction." Brian Stableford.

Contents:
A Ghost Story
The Rendezvous [Le Rendez-vous (1826)]
The Eclipse [L'Éclipse (1828)]
The Imaginary Voyage [Le Voyage imaginaire (1830)]
The Sorcerer [Le Sorcier (1831)]
Preface to Contes fantastiques (1832)
Kreisler (1832)
Honestus (1832)
Hoffmann and Paganini (1832)
Beethoven's Dinner [Le Dîner de Beethoven (1834)]
The Green Man [L'Homme vert (1834)]
The Good Sister and the Bad Sister [La Soeur rose et la soeur grise (1937)]
The Magnetized Corpse [Le Mort magnetisé (1845)]
The Revenant [Une Histoire de revenant (1826)]
Afterword to "The Revenant"
Sincerity [Tout de bon coeur (1868)]
Introduction and Notes by Brian Stableford.