The Mysterious Fluid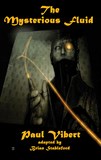 THE MYSTERIOUS FLUID
by Paul Vibert
adapted by Brian Stableford
cover by Yoz

"What I do know is that electricity is the unique motor of the universe in its three forms: fluid, heat and light. What I also know is that I can provoke at will manifestations of the soul-fluid, or intelligence, as you please, among the most obscure creatures..."

US$ 22.95 /GBP 14.99
5x8 tpb, 316 p.
ISBN-13: 978-1-61227-020-3

In the 40 stories assembled in this collection, originally published in 1901, journalist Paul Vibert explores such ground-breaking concepts as the artificial insemination of elephants with the seed of prehistoric mastodons found preserved in ice, the artificial production of microbe-sized humans, the existence of an underwater world inhabited by Ancient Jews, communication with Mars and other worlds via light signals, the power to look into the past, the electrical nature of the soul, the strange chemical lifeforms of the future, artificial Metempsychosis and the conquest of space.

Paul Vibert (1861-1918) made several significant contributions to the early development of French speculative fiction at the end of the 19th century. Published mostly in newspapers, his works have only recently been rediscovered, and deserve much recognition alongside those of Alphonse Allais, Charles Cros, Alfred Jarry and Albert Robida.

Contents:
Pour Lire en Automobile, Nouvelles Fantastiques [To Read In A Car, Fantastical Short Stories] (Berger-Levrault, 1901)
Introduction and Notes by Brian Stableford.