The New World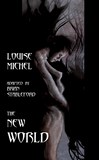 THE NEW WORLD
by Louise Michel
adapted by Brian Stableford
cover by Daniele Serra
The Summer City was sheltered in places by Cyclopean mines; it was constructed so solidly that it resembled the ancient cities of Egypt. Hard labor and united will-power triumphed over the danger of torments by means of that massive architecture. The other city, deep underground, was a cavern of giants, forging popular thunderbolts for the conquest of universal peace, in which transformations would rapidly be made of humanity, rising, always rising, until the globe grew old and crumbled in space.
US$ 20.95 /GBP 12.99
5x8 tpb, 268 pages
ISBN-13: 978-1-61227-117-0
In 1883, the notorious anarchist Louise Michel (1830-1905) was sentenced to six years of solitary confinement; effectively deprived of communication, she had had no refuge but writing. It is during that time that she penned The Human Microbes (published in 1887), as a distraction from her awful circumstances. It was followed by a sequel, The New World, published in a truncated form in 1888, due to Michel being shot in the head that year. Both are modeled on the classic feuilleton serials of the 1840s and were intended to be part of a six-novel series, in which Mankind would build a new utopia on Earth before moving out into space.
In The New World, the Arctic Utopian community founded at the end of The Human Microbes by Dr. Gaël, comprised of the victims of tyranny rescued by Captain Josiah and his "phantom brig," is threatened by the evil Judge Roll Wolff, intent on destroying it to cover his crimes...

The New World is an ambitious utopia in the vein of Jules Verne.