The Revolt of the Machines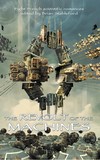 THE REVOLT OF THE MACHINES
Eight scientific romances by Michel Epuy, Emile Goudeau, X. Nagrien, Gaston de Pawlowski, Jules Perrin, Edouard Rod, Jules Sageret & Louis Valona
adapted by Brian Stableford
cover by Adam Tredowski

The Machine, still blowing indefatigably, abruptly turned its course northwards. When it passed by, at its strident cry, everything was suddenly destroyed, as if an evil wind, a cy-clone of devastation, a frightful volcano, had agitated there.

US$ 24.95 /GBP 16.99
5x8 tpb, 340 pages
ISBN-13: 978-1-61227-333-4

The Revolt of the Machines translated and annotated by renowned science fiction writer and scholar Brian Stableford, features eight stories written between 1865 and 1918, providing a cross-section of the early development of what the editor of the 19th century magazine La Science Ilustrée, Louis Figuier, called roman scientifique [scientific fiction].

Expanding upon the scientific speculations of the day, the stories in this volume often adopt philosophical or moral tones when conceptualizing the consequences of the discovery of anti-gravity; the breakthrough finding that life is possible after death; the mass suicide of technology; a cautionary tale of the dangers of telepathy; humans being dominated by a sub-species; a man who gets lost in history; and the exploration of Earth's newest moon, the wandering planetoid Anthea.

In every case, these scientific romances use scientific conjecture to tackle the eternal theme of what it means to be human.

Edited by Peter Gabbani

Contents:
A Prodigious Discovery by X. Nagrien [Prodigieuse découverte (1866)]
Dr. Z***'s Autopsy by Edouard Rod [L'Autopsie du Dr. Z*** (1884)]
The Revolt of the Machines by Emile Goudeau [La Révolte des Machines (1891)]
The Rival Colleagues by Louis Valona [Confrères ennemis (1896)]
Monsieur Forbe's Hallucination by Jules Perrin [L'Hallucination de Monsieur Forbe (1908)]
The Race that will be Victorious by Jules Sageret [La Race qui vaincra (1908)]
The Veridical Ascension Through History of James Stout Brighton by Gaston de Pawlowski [La Véridique ascension dans l'histoire de James Stout Brighton (1909)]
Anthea; or, The Strange Planet by Michel Epuy [Anthea ou l'étrange planète (1918)]
Introduction and Notes by Brian Stableford.