The Second Life of Doctor Albin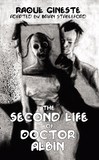 THE SECOND LIFE OF DOCTOR ALBIN
by Raoul Gineste
adapted by Brian Stableford
cover by Danile Serra

An intern armed with scalpels and a saw prepares to make the cranial section in order to determine whether the brain is undamaged and to what extent the guillotine can be considered as responsible. As the operation progresses, incoherent words emerge from the professor's mouth; emotion renders him breathless; a cold sweat pearls on his forehead. Thinking that no one can see him or hear him, the truth finally escapes from his trembling and blanched lips: "The head of Dr. Albin!"

US$29.95/GBP 19.99
5x8 tpb, 404 pages
ISBN-13: 978-1-61227-467-6

The Second Life of Doctor Albin (1902) belongs to a set of fictions that explore the supposed psychology typical of scientists with considerable analytical intensity. One of the central tenets of these is that scientific genius is incompatible with, and perhaps antithetical to, love between the sexes. The novel provides what is perhaps the most searching analysis of that allegedly-perverse emotional involvement with science to be found in the genre.

Raoul Gineste (1852-1914) was a scientist himself as well as a poet, and his attitude is far more balanced than some, infused with a genuine puzzlement and exploratory curiosity as well as a sense of inevitable tragedy.

Contents:
La Seconde Vie du docteur Albin (1902)
Introduction, Afterword and Notes by Brian Stableford.