The Spells of Frankenstein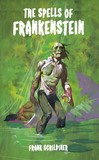 THE SPELLS OF FRANKENSTEIN
by Frank Schildiner
cover by Mike Hoffman


"It is said," Old Boris revealed, "that the second guardian is one that no sentient being has ever defeated..."


US$ 23.95 /GBP 19.99
5x8 tpb, 308 pages
ISBN-13: 978-1-61227-892-6
1900: Gouroull, Victor Frankenstein's lethal creation, wanders the snowy steppes in the heart of frozen Siberia and receives an offer he cannot refuse. If he opens a path for the ancient, alien beings known as the Outer Gods, their servant will provide him a perfect mate.

Gouroull must defeat demons, crazed collectors, inhuman monsters, an undying Roman Emperor, and a strange man named Whateley in his worldwide quest for his mate. Will his new ally, an odd holy man named Grigori Rasputin, fulfill his end of the bargain?

Based on Mary Shelley's classic work of terror, as reinterpreted by Academy award-winning screenwriter Jean-Claude Carrière in the 1950s, The Spells of Frankenstein tells the story of an evil, violent version of the monster. The creature, known as Gouroull, roams the world, his plans both fiendish and lethal for all life on Earth.

Frank Schildiner is a horror and pulp writer who regularly contributes to Tales of the Shadowmen. This is his third Frankenstein novel after QUEST OF FRANKENSTEIN and TRIUMPH OF FRANKENSTEIN.