The White Wolf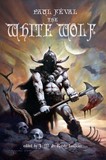 THE WHITE WOLF
by Paul Féval
adapted by Jean-Marc & Randy Lofficier
cover by Mike Hoffman
"The White Wolf is like the Devil. Only the two of them can run and disappear like this!"

US$24.95/GBP 16.99
5x8 tpb, 352 pages
ISBN-13: 978-1-61227-832-2
In 1720, Nicolas Treml de La Tremlay is a pro-independence Breton lord. One day, he decides to go and have a duel with Philippe II, Duke of Orléans:, Regent of France. If he wins, Brittany will be free, but if he loses, he will be sentenced for crime of lèse-majesté. Before he leaves Brittany, he makes an agreement with his cousin, Hervé de Vaunoy so that his grandson, Georges, will inherit his vast estate if he dies. But Georges is just a five-year-old child and Nicolas is imprisoned in the Bastille with his faithful servant, Jude Leker. Meanwhile, the villainous Hervé tries to drown the boy to steal his inheritance. But a mysterious albino known only as Jean Blanc watches and rescues the infant.

Twenty years later, the forest of Rennes near Treml has become the lair of the Wolves, a band of poor peasants who want to take revenge upon the local lords who oppress them. The Wolves' leader is a mysterious masked man called the White Wolf. A young officer of the King of France, Captain Didier, is sent to Brittany to suppress the rebellion and capture the White Wolf. But the crime committed by Hervé twentuy years earlier casts a large shadow, and events unfold in a way no one could have predicted...
In this remarkable historical novel -- amongst his first, published in 1843 -- Paul Féval throws a light on a little known period of French history, while evidencing his fascination for criminal gangs and masterful villains. In The White Wolf, he makes use of the obin Hood myth, but also anticipates the characters of Zorro and The Scarlet Pimpernel in the operson of his eponymous masked avenger.
Contents:
Le Loup Blanc (1843)
Introduction and Notes by Jean-Marc Lofficier