The World Above the World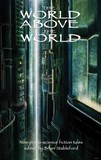 THE WORLD ABOVE THE WORLD
Nine proto-science fiction tales by S. Henry Berthoud, Michel Corday, Alphonse Daudet, Camille Flammarion, André Mas, Jules Perrin & Henri Lanos, René de Pont-Jest, Charles Recolin
edited by Brian Stableford
cover by Mandy

"Here is the city! I've constructed it above your ancient and marshy cities. Every quarter has its park, and all that verdure is watered regularly, either by the artificial rain that we attract during the night or with the aid of the river that you can see shining in the sunlight, and which traverses the length of the city. An easy life, free and pure air, all needs satisfied by a mysterious industry of which I am the master and the inventor. Henceforth, we demand but one thing: to be left in peace to enjoy that liberty above the world with which we are no longer preoccupied, in this open air city, to which I have given the name I made up for her: Aeria!"

US$ 22.95 /GBP 14.99
5x8 tpb, 340 pages
ISBN-13: 978-1-61227-002-9

A balloon ascent to the Heavens... A man with X-ray vision... A utopian metal city built on giant pylons above Paris... A sexless world in which women reproduce parthenogenetically and man is unknown... Is science insane? Unholy? See nine French authors of the 19th century grapple in a ground-breaking fashion with the future themes of science fiction.

All the stories included in this volume predate the first translation into French of H.G. Wells. They are representative of a distinct tradition of romans scientifiques whose cardinal influences included astronomer Camille Flammarion and Villiers de l'Isle-Adam. This edition includes a historical introduction and notes by Stableford.

Contents:
S. Henry Berthoud: A Heavenward Voyage [Voyage au ciel] (1840)
S. Henry Berthoud: The Second Sun [Le Second soleil] (1862)
René de Pont-Jest: Mimer's Head [La Tête de Mimer] (1863)
Alphonse Daudet: Wood'stown (1873)
Camille Flammarion: Love Among the Stars [Un Amour des astres] (1896)
Charles Recolin: The X-Ray [Le Rayon X] (1896)
Michel Corday: The Mysterious Dajan-Phinn [Le Mystérieux Dajan-Phinn] (1908)
Jules Perrin & H. Lanos: A World Above the World [Un Monde sur le monde] (1911)
André Mas: Drymea, World of Virgins [Drymea, monde de vierges] (1923)
Introduction and Notes by Brian Stableford.