The World Turned Upside Down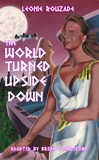 THE WORLD TURNED UPSIDE DOWN
by Léonie Rouzade
adapted by Brian Stableford
cover by Jean-Felix Lyon

Humans who are looking at us, behold man and woman equal, purely by their mutual will! Have we presumed too much in announcing a unique marvel?

US$20.95/GBP 12.99
5x8 tpb, 240 pages
ISBN-13: 978-1-61227-346-4

Leonie Rouzade, angry, combative, and prominent in the feminist cause, delivered a scathing social commentary in this pair of tales from 1872.

When a shipwreck strands a man in a perfect island civilization in A Voyage to the Isle of Utopia, he, after confronting a parade of didactic lectures, accepts that the rigors of logic have rendered obsolete human individuality.

The World Turned Upside Down is the earliest fantasy of gender role reversal ever penned. An idealized woman, Celestine, climbs out of her circumscribed existence to rule a foreign kingdom, only to mandate the subjugation of men by women. Even today, its originality remains unsurpassed. It is a grandiose conte philosophique, taking satire to the edge of absurdity.

edited by Peter Gabbani

Contents:
Le Monde Renversé [The World Turned Upside Down] (Lachaud, 1872)
Voyage de Théodosie à l'Île d'Utopie [A Voyage to the Isle of Utopia] (Lachaud, 1872)
Introduction and Notes by Brian Stableford.