Zembla #1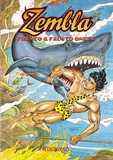 ZEMBLA (VOLUME 1) by Franco & Fausto Oneta, cover by Franco Oneta.

Contents:
- Foreword by Joe Kubert
- Introduction by Jean-Marc Lofficier
- The Birth of Zembla by Franco Oneta
- A Bride for the Sky-God by Franco Oneta
- The Wrath of Boor by Franco Oneta
- The Super-Apes of Anthar by Franco Oneta
- The Demon Kaifar by Franco Oneta
- Bonus pin-ups

His parents murdered, abandoned as a child in the jungle, taken in and raised by lions, ZEMBLA (aka THE LORD OF LIONS) grows up and becomes the protector of the African jungle of Karunda. Assisted by the young Yé-Yé and the magician Rasmus, as well as the animals Satanas, Wamba and Pétoulet, Zembla maintains order and dispenses justice, fighting the intelligent gorillas of Anthar, Kaifar the evil spirit and many other colorful opponents.
Created in 1963, ZEMBLA was for more than thirty years the flagship series of Éditions Lug thanks to the talent of legendary Italian artists Franco and Fausto Oneta. This collection feastures the origin of the character.

7x10 tpb, 284 pages b&w
ISBN-10: 1-932983-93-7, ISBN-13: 978-1-932983-93-7 - US$22.95 / GBP 14.99