The Return of Lord Ruthven (Stage Play)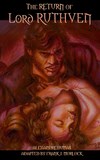 THE RETURN OF LORD RUTHVEN (STAGE PLAY)
by Alexandre Dumas
adapted by Frank J. Morlock
cover by David Rabbitte

Ruthven is a demon,
Ruthven is a vampire!
His Love is Death!

The implacable Lord Ruthven returns in Volume 2 in a new, horror-filled story where the deadliest vampire of all comes face-to-face with an even more fearsome enemy -- Zizka, a female Ghoul of great necromantic powers. Both Ruthven and Zizka covet the same humans. The shadow-filled castles of Europe become the stage for the ultimate confrontation between Vampire and Ghoul--and those who dare defy them!

US$ 20.95 /GBP 12.99
5x8 tpb, 264 p.
ISBN-10: 1-932983-11-2
ISBN-13: 978-1-932983-11-1

Contents:
- The Return of Lord Ruthven, an 1851 sequel presented here in its original form by Alexandre Dumas, the famous author of The Three Musketeers and The Count of Monte-Cristo;
- Entretien with a Vampire, an all-new story in which Dumas himself meets Ruthven and Rocambole in 1850s Paris, by renowned playwright and translator Frank J. Morlock.
- Introduction by Frank J. Morlock