Doctor Lerne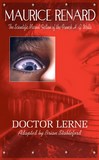 NOTE: YOU ARE PURCHASING AN E-BOOK, NOT A PAPER BOOK. WHEN ORDERING, PLEASE SPECIFY IN THE COMMENTS IF YOU PREFER A PDF OR AN EPUB FILE. THE FILE WILL BE E-MAILED TO YOU AS SOON AS PAYMENT IS RECEIVED.


DOCTOR LERNE
by Maurice Renard
adapted by Brian Stableford
cover by Gilles Francescano

Dr. Lerne had no right! It was as infamous as murder! The odious operations he performed on virginal Nature combined the horror of murder with the ignominy of rape!

Contents:
- M. Dupont's Vacations (Les Vacances de M. Dupont, 1905)
- Doctor Lerne (Le Docteur Lerne, 1908)
- Scientific Marvel Fiction and its Effect on the Consciousness of Progress (Du Roman merveilleux-scientifique et de son action sur l'intelligence du progrès, article, 1909)
Introduction and Afterword by Brian Stableford.


Often hailed as the best French science fiction writer of the early 20th century, Maurice Renard coined the term "Scientific Marvel Fiction" to pen a series of gripping, ground-breaking stories that owe as much to Edgar Allan Poe as they do to H.-G. Wells. Until now, Renard was best known to the English-speaking public for his thrice-filmed thriller, The Hands of Orlac.

This is a series of five volumes, translated and annotated by Brian Stableford, devoted to presenting the classic works of this pioneering giant of French science fiction.

Dedicated to H.-G. Wells, Maurice Renard's Doctor Lerne (1908) features a mad scientist who performs organ transplants not only between men and animals, but also with plants, and even machines. This volume also includes "Mr Dupont's Vacation" (1905), a story about dinosaurs returning to life, and Renard's 1909 revolutionary manifesto on "Scientific Marvel Fiction."