Doctor Omega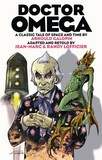 NOTE: YOU ARE PURCHASING AN E-BOOK, NOT A PAPER BOOK. WHEN ORDERING, PLEASE SPECIFY IN THE COMMENTS IF YOU PREFER A PDF OR AN EPUB FILE. THE FILE WILL BE E-MAILED TO YOU AS SOON AS PAYMENT IS RECEIVED.


DOCTOR OMEGA
by Arnould Galopin
adapted and retold by J-M. & R. Lofficier
Foreword by Terrance Dicks
cover by Gil Formosa

"Doctor! I'm ready to follow you anywhere! To the ends of the Earth, if you will!" "Oh, I think we'll go further than that," Doctor Omega said with a smile.

Doctor Omega was published in France in 1906. This marvelous classic of pulp literature has now been translated and retold in English for the first time.

France, 1905. In a quiet Normandy village, amateur violinist Denis Borel meets a mysterious white-haired scientist known only as Doctor Omega, who is building an amazing spacecraft, the Cosmos. Doctor Omega invites Borel to accompany him on his maiden voyage - to Mars! But the Mars they land on is the primitive planet of three billion years ago, inhabited by savage reptilian warriors and macrocephalic gnomes who seize their ship. Without the Cosmos, can the stranded travelers ever hope to return to Earth?

Contents: Le Docteur Oméga (1906) by Arnould Galopin; Foreword by Terrance Dicks.
READ THE REVIEWS
In short, this was simply a wonderful novel written in a style that just isn't done anymore. The added black and while illustrations from the original French publication in 1906 in the collector's edition are a very nice touch. They, along with the surrounding incredible story, make the collector's edition well worth owning as well as passing down to children. With all the violence and negativity reflected in today's fiction, regardless of the genre, it is very refreshing to read a work full of the potential of the human race and full of wonder.
e-opinion

I'll just say that Who fans will enjoy this oddest addition to the canon yet, and Wells fans – indeed any fan of early sf, could do much, much worse than try this light-hearted adventure for size.
Alien Online

Written by Arnould Galopin and released in 1906, the book has been "adapted and retold" by Jean-Marc and Randy Lofficier. To my eye, they've done a subtle job. Modern terms such as "black hole" and "quark" have been introduced, but the rest of the book remains resolutely Edwardian, in a Gallic fashion. The titular doctor, a mysterious figure from another time and place, recruits two Frenchmen to accompany him on the first trip to Mars in his rocket clad in gravity-defying "stellite." Once there, they encounter a host of wondrous creatures and become involved in a local war. Reminiscent both of Stanley Weinbaum and Doc Smith, this rollicking tale never disappoints.
Paul diFilippo
Asimov's